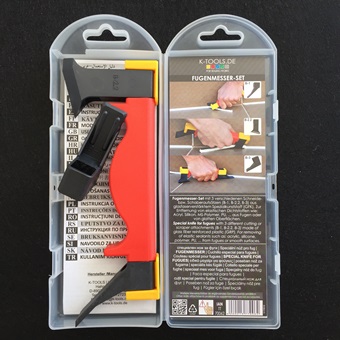 TWIN-TOOL PowerCut PRO
Professional GROUTING KNIFE
Starter kit, 6 pieces with multi-lingual manuals in a practical storage box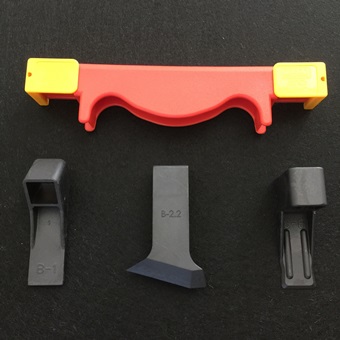 Content: 1x TWIN-TOOL handle,
1x B-1, 1x B-2.2, 1x B-3, 2x fixing cap
or alternatively with blue handle
Content: 1x Twin-Tool handle
1x B-1, 1x B-2.2, 1x B-3, 2x fixing cap
or alternatively with red handle
Application:
With the fiberglass-reinforced plastic (FRP) adapters B-1, B-2.2 and B-3 you can peel or gently scrape off elastic sealants such as acrylic, MS polymer, PU or silicone out of joints or smooth surfaces when they are old, defective, moldy or ugly.
At a softer sealant consistency, you could try to peel out of the joint the same time at two sides with adapter B-2.2. Because of the consequent, higher frictional resistance, you would have to take a higher effort into account due to this method of operation. Less effort unfortunately requires a little more time. With adapter B-3, the elastic sealant in the fugue can be cut individually from each side with less force. More persistent residuals of sealant may be carefully scraped off or removed from the substrate surface with adapter B-1 (scraper blade).
Before using the grouting knife, always secure all attachments with the L-shaped fixing caps (I-1) on the TWIN-TOOL knife handle!
Important:
As a basic principle, it is best to test at a suitable location BEFORE the actual cutting or shaving work begins, to determine whether the substrate is sufficiently stable and insensitive! Only if it is NOT prone to scratching can you carefully start with the attachments B-1, B-2.2 and B-3 with the extraction of the defective sealant joints.