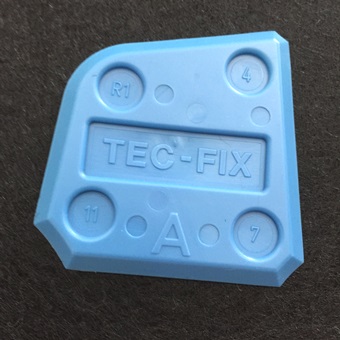 TEC-FIC
Pro tools for smoothing
Type: TF-A (4, 7, 11, R1)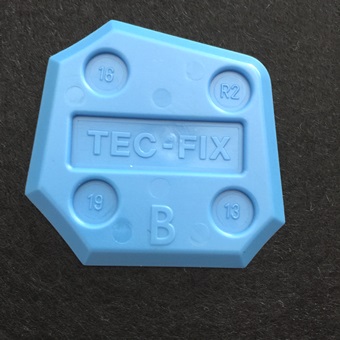 TEC-FIX
Pro tools for smoothing
Type: TF-B (13, 16, 19, R2)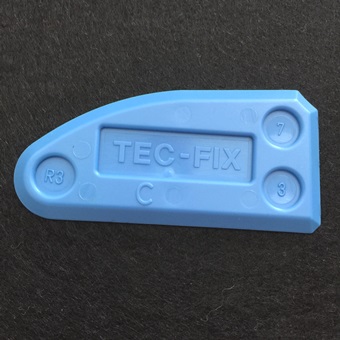 TEC-FIX
Pro tools for smoothing
Type: TF-C (3, 7, R3)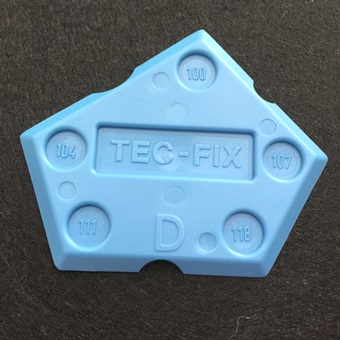 TEC-FIX
Pro tools for smoothing D
Angles: 100°, 104°, 107°, 111°, 118°
TEC-FIX professional tools for smoothing, as a 4-piece tool set, with multi-lingual instructions for use in a practical storage box
Content: TF-A (4, 7, 11, R1) | TF-B (13, 16, 19, R2) | TF-C (3, 7, R3) | TF-D (100, 104, 107, 111, 118):
With tip 100 at Type D, the fresh sealant such as impurities, air bubbles or other occasions can be removed selectively .
The Type B with joint size 7 and 11 can be used with normal connecting joints in new construction in the area floor / wall, floor / ceiling or also when connecting floor / wall and object, such as sink, bidet, toilet, bath, shower, whirlpool, etc.
For ornamental joints without burden or in the hobby area, the small joint size 3 or 4 at the Type A is often used.
The Type B with 13, 16 or 19 you often have to take for larger joints such as in old buildings or after renovations.
For the preparation of professional expansion joints, the excess sealant is first coarsely peeled off with a smooth tool side, then a matching outer radius R1 or R2 used to sink the sealant even deeper into the joint.

Thus, the desired function of the elastic joint is ensured even when cleaning and wiping.

The rounded tool tip of Type C forms clean sealing joints, f.ex. for roof extensions or roof slopes. Otherwise, C is used in confined spaces as well as in model and industrial construction.
The special tool type D is used in window and glass construction.

This makes it possible to retighten joints in the connection area of ​​glass / plastic, glass / wood or glass / aluminum very well in windows or doors.

With the inner radii of the tool Type D, you can reshape certain outer corners.
Important:
In fact, you should really pay close attention to the instructions of the sealant manufacturer already in the run-up to upcoming jointing and sealing work. Equally important are the relevant rules for the correct execution of the planned work. These information can be found in the DIN / EN standards of the respective trades or in specialized publications of relevant trade associations and institutes. Because of different shrinkage behavior of the offered sealants, loads and possible component movements, the joint sizes should not be underestimated.
Therefore, please note only as a very rough rule of thumb: both side surfaces of the joint edges should be covered after grouting with at least approx. 3 mm of sealant each!